Marks your calendars!
WHAT: Movie Event
WHEN: Tuesday, November 25th @ 5:15 p.m.
WHERE: St. Martinville Branch Library
DETAILS: St. Martin Parish Library will be showing the film adaptation of Gayle Forman's bestselling YA novel If I Stay.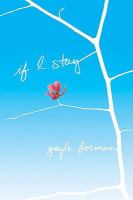 Adults and teens are invited to attend this event. Please know that the film is rated PG-13 and has a runtime of 1 hr 27  min.
If interested in attending, please visit any branch of the St. Martin Parish Library to RSVP and receive your free  movie ticket.
If you would like to read the novel before seeing the movie, please see your local library.